One of the habits of American racists is to always make sure their victim is murdered twice.
For years, this has typically been done by means of the "S/he was no angel" tactic.
It works this way: A victim such as George Floyd is murdered by the cops, often in plain view of somebody with a camera where you can literally watch the killer kill his victim while he begs for his life.
Then some excuse (the victim had a drug record, or "resisted" being murdered, or was once arrested, or some other damnable smear) is put forward to say that the murder victim deserved to be murdered in cold blood by the cop.
The idea is that that the murder was really just justice catching up with the victim, who had it coming, because what imperfect person does not deserve cold-blooded vigilante murder, especially when brown? Had he not had those unpaid parking tickets or been caught with that doobie in his car five years ago or moved so fast in producing his concealed carry license, this killing might have been technically "murder". But now we see that the cops who killed this victim were just doing the gritty work of frontier justice somebody has to do in the mean streets filled with such animals.
Case in point: Rod Dreher's recent act of murdering George Floyd again.
Shorter Dreher: Terrified man expected to be killed and was killed. So it was his fault for being terrified and resisting being killed. What else could his murderers do but kill him?
Naturally, this was elaborated on even more crudely by Austin Ruse, professional "prolife" MAGA Qatholic:
What Ruse–a prominent figure in Opus Dei circles who is never ever challenged as a massive public scandal by his paymasters and enablers–means is that people with addiction issues deserve to be murdered by police, a remarkable position for somebody who professes to care about the "sanctity of human life". It goes without saying that this does not apply to addicts like Rush Limbaugh but rather to brown people. Because, oh you know:
In addition to addiction issues meriting summary execution, the idea is to lie that a black murder victim was a) a chronically unemployed "skell" [Floyd had a job right up until he, like millions, lost it to COVID] and b) for this reason he also deserved to be murdered by police. He had it coming. He brought it on himself. He wasn't murdered–and now let's murder him again.
This pattern of murdering MAGA victims twice does not just apply to physical murder. It also applies to the murder of their reputation and good name too.
Case in point, the double murder of the good name of Gloria Purvis. Gloria, you may recall, was originally cancelled by the Guadalupe Radio Network, which distributed her show Morning Glory for EWTN.
The original excuse given by GRN was this:
During these last couple of weeks we have heard a "spirit of contention" growing among the Hosts live on-air. Yes, it is a difficult subject and can become a spirited one for sure. However, it has become more and more awkward and uncomfortable to listen to. Attached are 2 "sound bites" from shows that aired on June 17th, and June 25th. We feel it is clear that there is a real disconnect among the team, becoming more and more obvious, and we feel that should be addressed. We do not feel that this type of exchange is edifying, nor is it clarifying for anyone, especially a Catholic radio listener who wants clarity. You can hear the full shows for both June 17th and 25th at the following links https://www.ewtn.com/radio/podcasts/morning-glory-~HD.
"Spirit of contention" is, of course PiousSpeak for "being an uppity black woman". The reason for this unjust reprisal was simple:
Never before have we received as many complaints about any EWTN show as we have about Morning Glory as of late. Our efforts to try and correct the situation before were not successful. So, we felt we had no other option other than to temporarily suspend airing this program.

The unfounded and uncharitable accusations hurled at GRN, without the facts, have been terrible. As you well know, Satan is the father of lies. Unfortunately, that is what is happening here in this situation – lies are being told, and spread around, on the internet about us. We hope you will help in sharing the true story!

Our decision to temporarily stop carrying the program was not made lightly but was made after a LOT of prayer. Again, it is our hope that the "Morning Glory" team will be able to come together to correct the contention of the show to be the program that we have always loved to air across the GRN.
In other words, their MAGA donor base demanded they shut down the uppity black woman and GRN cowardly complied, while whining that they were the real victims.
Gloria, who is nothing if not classy, gracious and deeply Catholic, responded with her customary grace and class to this outrageous unjust act of gutless cowardice: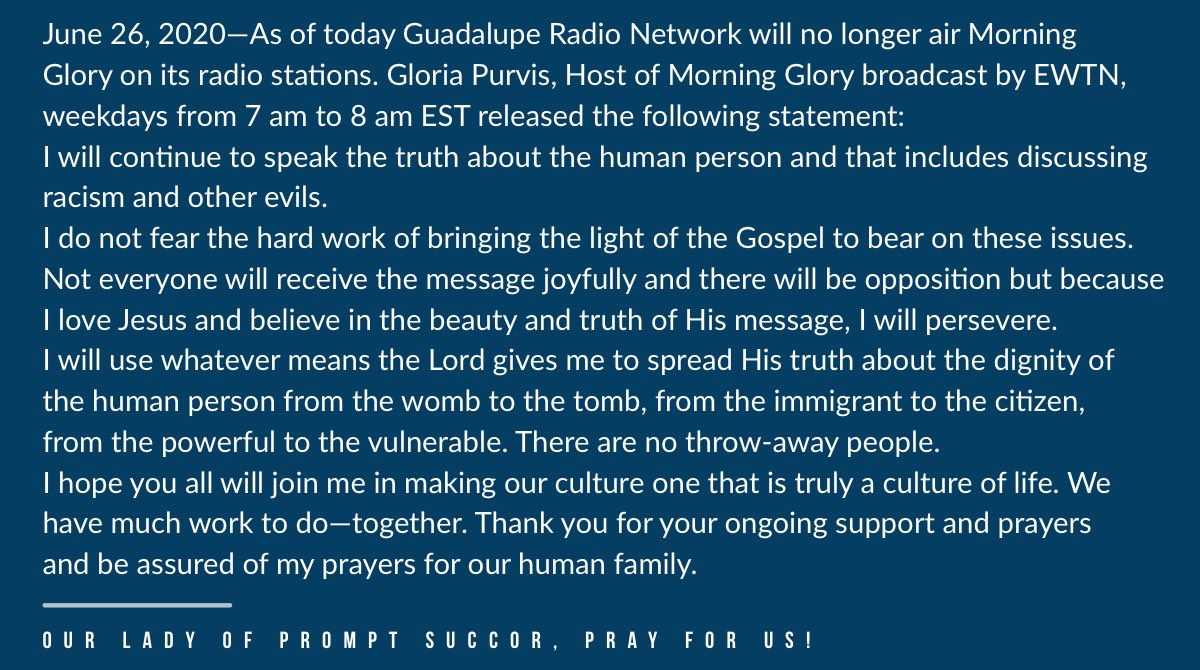 That was a month and a half ago and GRN continues to punish her for being intelligent, classy, and perfectly right. Meanwhile, her cause continues to spread and the heat has gotten more intense on GRN suckupery to the MAGA cult as the NY Times does a piece on Gloria and the behavior of this miserable pack of cowards is expose to broad daylight.
So how does GRN react? By murdering her again, of course. Now, when challenged on their unjust treatment of Gloria, they don't merely wave their hands about a vague "spirit of contention". They declare that she is, in fact, "not even in alignment to Church teaching":
Permit me to say loud and clear that this is an absolute lie. Not word she has said and not a thing she has done is out of alignment with the Church's teaching. What is radically out of alignment with Church teaching is GRN bearing false witness against her in order to murder her reputation again with lies after having murdered it once with insinuations.
Now all that's necessary is for the racist MAGA cult to back up GRN with more piling on, like this:
…and the whole "She's no angel" character assassination strategy can go into high gear yet again as decent people supporting her somehow become a "mob".
The thing is, that strategy doesn't work as well as it used to, because decent people are on to it, call it out, shame it, and push back. Dreher got huge blowback for his smear of Floyd. Ruse only play in the dark corners of the increasingly crazy and dwindling readership of CRISIS!!!!. Meanwhile, Gloria Purvis continues to gain an audience while these white supremacists try to hide from disinfecting sunlight.
Learn to spot and call out this tactic on double murder beloved by the MAGA cult. Call it out whenever you see it. Help as many people as you can build antibodies against it. Don't let the victims of this bullshit have suffered and died in vain.