The Bronze Age Israelites had a crude but effective method for dealing with people who claimed to speak for God and turned out to be wrong:
But the prophet who presumes to speak a word in my name which I have not commanded him to speak, or who speaks in the name of other gods, that same prophet shall die.' And if you say in your heart, 'How may we know the word which the Lord has not spoken?'— when a prophet speaks in the name of the Lord, if the word does not come to pass or come true, that is a word which the Lord has not spoken; the prophet has spoken it presumptuously, you need not be afraid of him. (Deuteronomy 18:20-22)
Note that the criterion has nothing to do with interior disposition. The question for the Bronze Age minds was not "Did the false prophet truly believe they were speaking from God and just make a boo boo?" It's 100% results-oriented. Did the prophecy come true: yes or no? If no, kill him.
This is what one Pentagon spokesman, speaking of Saddam Hussein's method for dealing with traitors, described as a "very dynamic zero defect policy". Ancient Israelites were serious as a heart attack about not taking the Name of the Lord their God in vain.
For of course, that is what the second commandment primarily has in view, not cussing (though profanity is bad too since it teaches people to take the Name of God lightly).
These days, of course, civilization has developed under the influence of the Spirit and the example of Jesus Christ (not to mention the hard-won experience of a Christian Church that emerged from its members own brutality to one another) to make certain moral distinctions that did not occur to Bronze Age people in their simplicity. So we don't stone false prophets to death any more.
Our ancestors deeply believed that "Error has no rights". So, by the way, do you, if you agree that MAGA cultists do not have the right to impose on Normals the idea that the earth is flat, or that gays should be killed, or that COVID is fake, or that Trump won the election. Such prophetic declarations are, 'ow you say, wrong and the opinion of the fools and liars who say these things is not just as good as that of those who know the earth is round, gays should not be killed, COVID is real, and Biden won.
The reason you don't (I presume) call for the deaths of these fools and liars in turn is because you have internalized one of the central developments of modern civilization. It is this: Though error has no rights, persons in error do have rights.
It took thousands of years for the Holy Spirit to get the human species to the point of realizing that development. And it remains a fragile achievement constantly in danger of loss. In some places, it still remains to be achieved. As the history of the 20th century shows, people with a Very Definite System for How Things Should Be are quite ready to kill those who don't fit the system.
That system can be economic, political, scientific, racial, cultural–or religious. Often it's a mixture.
And the danger is that such systems nearly always produce false prophets: people ready to speak with Ultimate Authority about The Way History is Going to Go.
And so we find ourselves full circle again because it turns out false prophets can, in fact, be precisely the deadly danger Deuteronomy fears.
Now, I agree with Holy Church that killing false prophets should no longer be the Done Thing. But I also agree with the Tradition that false prophets must be ignored and opposed with truth, particularly when they have such a very long track record of being so wrong about so much so many times for so long that only a fool would heed them.
That is what the MAGA Cult is proving in this hour as they falsely declare, in the Name of Almighty God no less, that Trump won, that everybody but them is lying, and that Satan himself is working in and through all the Normals and decent people who are speaking the simple fact that Biden won.
Here are a bunch of them, in no particular order: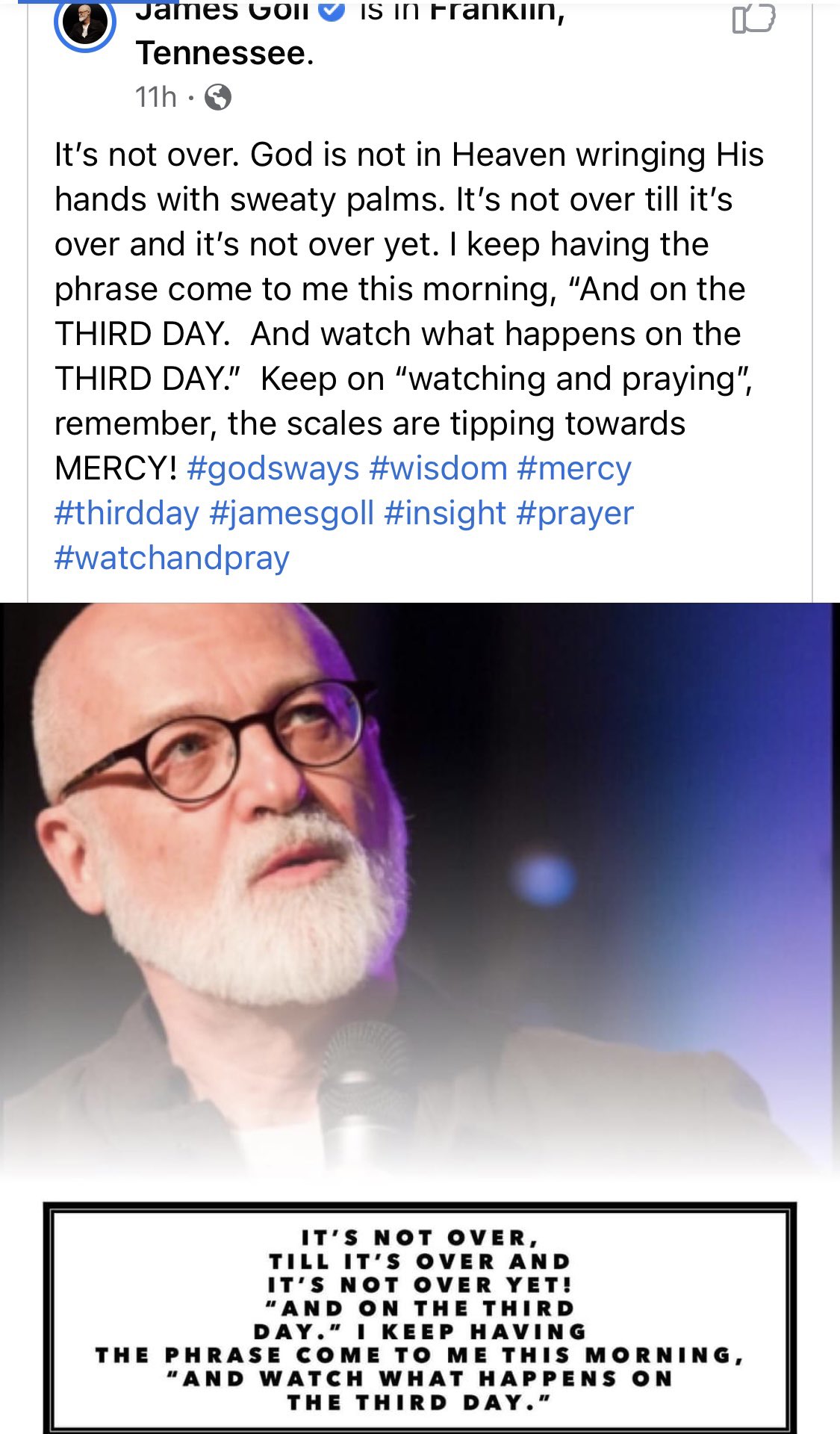 And finally, just to demonstrate conclusively that false prophets are not all just Fundamentalist wackos or lay Catholic grifters like Taylor Marshall, there is clerical Catholic grifter Archbishop Carlo Maria Vigano, who got himself anointed a prophet while covering his ass for failing to do anything about McCarrick, all by attacking the one man who did discipline McCarrick: Pope Francis.
Since then, he has been hiding from all accountability or question while sending out increasingly nutty letters about the COVID "conspiracy" and issuing apocalyptic bulletins about the "Great Reset" in which the Children of Darkness take over and do Awful Things with the approval of the Pope, whom he hates.
Naturally, this loony is a Trump zealot and, naturally, he has Thoughts on the election, such as these golden words:
Covid and Biden are two holograms, two artificial creations, ready to be adapted time and time again to contingent needs or respectively replaced when necessary with Covid-21 and Kamala Harris.
Worthy of a mimeographed word salad from Mel Gibson's character in Conspiracy Theory.
This unanimity of consensus recalls the enthusiastic support of the Masonic Lodges on the occasion of the election of Jorge Mario Bergoglio, which was also not free from the shadow of fraud within the Conclave and was equally desired by the deep state
This is red meat for the same nuts who also think the pope was falsely elected. He appears to mean that precisely because all Normals agree that Francis and Biden were, in fact, elected, that is proof of the existence of a vast Masonic Conspiracy. This is kooks on Youtube talk, not Archbishops.
….and was equally desired by the deep state, as we know clearly from the emails of John Podesta and the ties of Theodore McCarrick and his colleagues with the Democrats and with Biden himself. A very nice little group of cronies, no doubt about it.
Translation: Pizzagate is real and blood-drinking Jews and libs walk among us, Masters of the Deep State and the Deep Church.
(If the blood-drinking Jews thing sounds familiar, its because Popes have been telling wahoo Catholics it's crap for a millennium and wahoo Catholics, right down to QANON morons at war with Francis, have been certain they are way smarter than the Magisterium about this. That an Archbishop spreads this crap is a scandal.)
With these words of the USCCB the pactum sceleris [plot to commit a crime] between the deep state and the deep church is confirmed and sealed, the enslavement of the highest levels of the Catholic hierarchy to the New World Order.
It seems the American bishops addressed reality and accepted the results of the election.
Taking note of this is the first, imperative step in order to understand the complexity of the present events and consider them in a supernatural, eschatological perspective.
Translation: I, and I alone have the True Gnosis, making me Master of the Hidden History of Our Time! I am definitely not nuts and am infinitely superior to Church, unlike all other kooks and heretics who have ever said exactly the same lunatic nonsense.
So here's the thing. They're wrong. All of them. Trump lost. Biden won. That's it. That's all. It's over. And by biblical lights, that makes every last one of of these people false prophets whom no person need ever listen to again when they claim to speak some special revelation from God.
Of course, it is a foregone conclusion that the Cult will find some way to square the circle and declare that, somehow or other, they weren't really wrong. How that will be achieved, I am not certain. Perhaps, like Jehovah's Witnesses did when Jesus failed to return in 1914, they will declare that Trump was spiritually re-elected and remains the Once and Future President. Perhaps they will multiply conspiracy theories. That's fine with me. Everybody needs a hobby.
The only thing that concerns me as a citizen is if some of these people decide they need to force God's hand by vigilante terrorism. If that happens, let me be the first to urge that Caesar Biden fulfil their eagerly-sought fantasies of Persecution by the Beast by arresting them and jailing them, not for being Good Christian Martyrs, but for being wicked criminals who hurt people in pursuit of their evil dreams of power.
For rulers are not a terror to good conduct, but to bad. Would you have no fear of him who is in authority? Then do what is good, and you will receive his approval, for he is God's servant for your good. But if you do wrong, be afraid, for he does not bear the sword in vain; he is the servant of God to execute his wrath on the wrongdoer. Therefore one must be subject, not only to avoid God's wrath but also for the sake of conscience. (Romans 13:3-5)