One of the things that makes for effective communication is being aware of who is listening to you and who you are speaking to.
So, for instance, one can say with literal and strict exactitude that "Everybody needs oxygen." This is a universally applicable statement with no exception (unless we note the stickler who points out that the dead do not need oxygen).
A closely related remark might be that everybody needs food and drink. It's almost universally true–except for endstage terminal people whose appetite has died and who refuse food and drink as their body shuts down–which they have a perfect right to do, by the way.
"Who doesn't love a feast?" is a statement we might well make to a roomful of Christmas revelers with perfect accuracy–given the audience we are addressing. Within that "universe of discourse" we are expressing the consensus of the crowd and gauging accurately the mood of the room. We are not being mathematically precise about the entire global hospice population, but neither are we insulting the dying either. We're just expressing our joie de vivre.
This is normal human speech on a huge number of occasions. We say casually that "Everybody loves Star Wars" and even people who don't care for Star Wars generally understand that we mean "Star Wars is a very popular film, beloved by millions." If somebody objects that Star Wars sucks, our world is not thrown into crisis by that data point, unless there is something wrong with us.
But now consider a slightly different situation, where those who stand outside the Universe of Discourse really push back against those inside it. Lenny Bruce, one of the first consummate Outsider comedians, illustrated the discomfort that comes when our Universe of Discourse is too easy breezy about who constitutes the In Crowd. He pictures the Lone Ranger, surrounded by Indian attackers, turning to his companion Tonto and saying, "It looks like they have us surrounded!" To which Tonto famously replies, "What do you mean 'we', White Man?"
This sudden shift in which we realize that there are realities we have overlooked, people we have unthinkingly ignored and paradigms that we have never considered, is what the idea of Universes of Discourse are all about. And many and many a bigot is, these days, finding that social media is making it hard to maintain their sometimes suffocatingly cramped Universe of Discourse intact: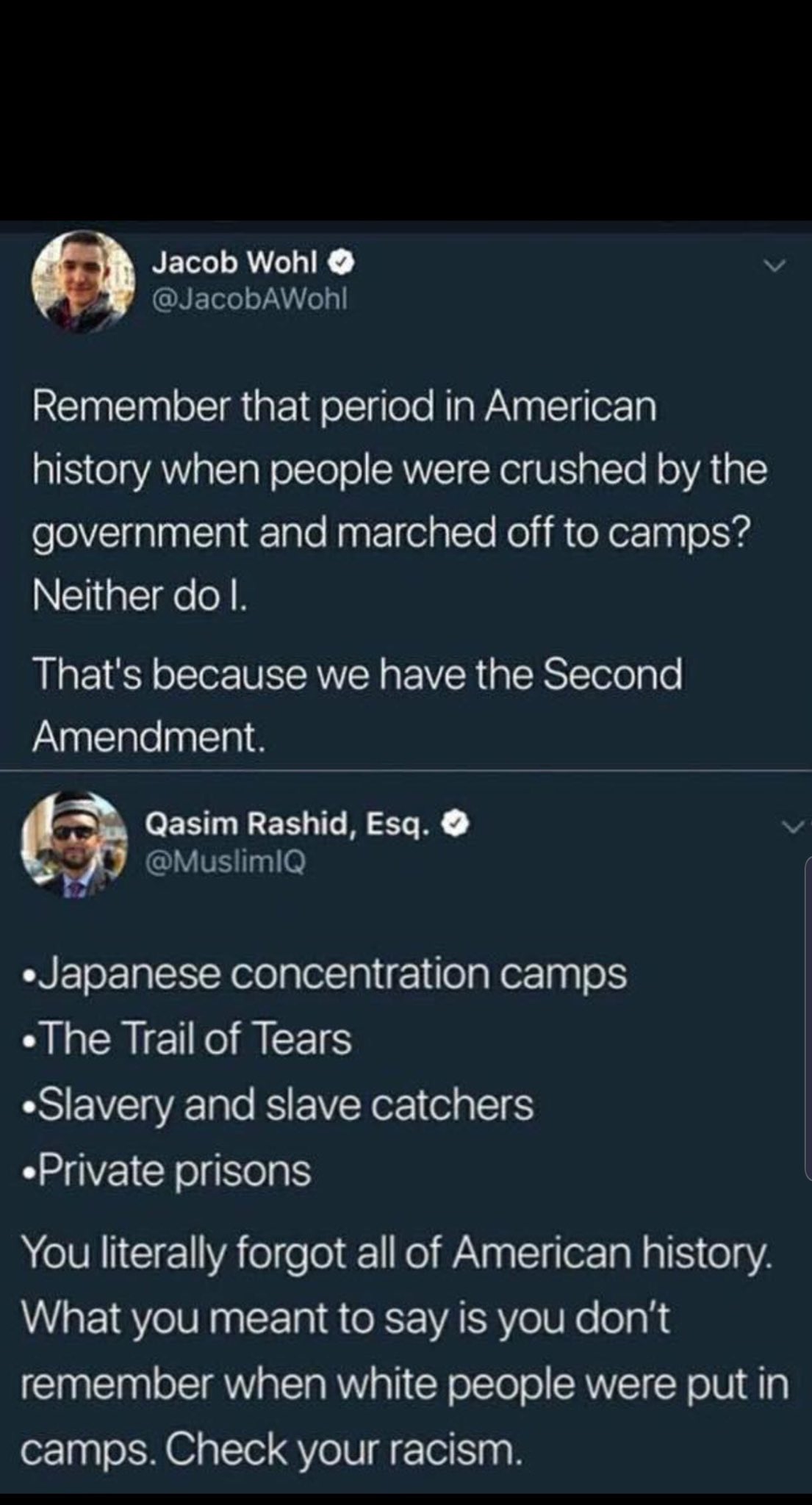 One way in which Universes of Discourse expand is simply through human encounter. And while professional bigots like Jacob Wohl may work very hard to maintain their Bubble Universe out of pigheadedness, many people can go their whole lives simply not giving any thought to a group of strangers until one day encounter makes them rethink everything.
Case in point: a woman my mother-in-law Pat went to school with. She was a Baptist gal from Shreveport who had never known a Catholic in her life: very sweet and kind. Pat was a born-and-bred Catholic from Brooklyn. They took a cosmetology class together in the 50s and practiced cutting each other's hair. The lady from Shreveport was genuinely surprised and registered perfectly innocent astonishment when she lifted up Pat's bangs to trim them and found a complete absence of what she had been told all her life Catholics supposedly had: horns.
Pat, like the sensible woman she was, took no offense but instead laughed her head off and corrected this sweet young thing that, no, Catholics don't have horns. The woman was genuinely grateful for this new information and they became fast friends. Her Universe of Discourse was gently and painlessly expanded to include Catholics as real humans and not mere cartoon figures and she never again repeated the weird myth her local culture had taught her.
As Jacob Wohl's ugly career shows, sometimes we can deliberately choose to dwell in a Universe of Discourse precisely to victimize those outside it. That is what cliques and cults are all about. Or we can be so focused on our Universe of Discourse that we are heedless of those outside it when we should be considering them. In the first instance, we see the stereotypical Mean Girl clique in the movies, who go out of their way to exclude and humiliate the new kid. In the second, we see the new kid trying so hard to be popular that she forgets about her friend who cares about her in her passionate quest to get a seat at the Cool Kid's Table. The first is a sin of commission, done with malice aforethought. The second is a sin of omission, done not to hurt the kind friend, but also done without any consideration for her. And both are sins.
Recently, a fairly well-known Catholic podcaster interviewed a convert to the Faith from a Muslim background. His organization ran an ad in which it was eagerly declared that Muslims worship a different god than Catholics do.
This very popular idea among conservative and Reactionary Catholics has really taken on a life of its own since 9/11. So much so, that Reactionary Catholics think nothing of calling the Church herself heretical for teaching in CCC 841:
CCC 841: "The plan of salvation also includes those who acknowledge the Creator, in the first place amongst whom are the Muslims; these profess to hold the faith of Abraham, and together with us they adore the one, merciful God, mankind's judge on the last day."
Yet this is not a new take. Pope St. Gregory VII, writing to the Muslim Sultan of Bougie in North Africa in 1076 says:
For there is nothing which Almighty God, who wishes that all men should be saved and that no man should perish, more approves in our conduct than that a man should first love God and then his fellow men … Most certainly you and we ought to love each other in this way more than other races of men, because we believe and confess one God, albeit in different ways, whom each day we praise and reverence as the creator of all ages and the governor of this world.
This is typical for the Church. It seeks to find whatever can by affirmed in common with other religious and philosophical traditions. Paul did it on the Areopagus. The Fathers of the Church did it. Thomas did it with Aristotle–and with Muslims, whihc is why he was constantly comparing notes with Averroes and Avicenna, both Muslim. So the Church affirms that Muslims and Jews both worship the God of Abraham together with us, not a "different god". This is the fundamental teaching of holy Church and rejection of that teaching is heresy. Period.
Happily, the podcaster saw that much and issued a retraction.
But here's the thing, since his Universe of Discourse extended only to his audience of conservative and Reactionary Catholics, his retraction took into consideration only them and not the Muslims his ad had so casually slandered. What mattered was only crossing the t's and dotting the i's of Correct Doctrine, not the human beings insulted by the ad. Consequently, his apology read:
I have a group who post for me on social media and they don't always get things right (we're all human). Regarding the recent post on Muhammadism… It is not my opinion that Muslims worship a different God to Christians. Catholic theology has always maintained that Muslims worship God the creator (this has also been taught by Catholic Popes such as Pius X). I apologize for the post.
This is something like a Fundamentalist saying, "My apologies for calling Romanist Mary Worshippers 'baby eaters'. They do not, in fact, eat babies". The mention of Pius X signals to the Ingroup that is your Universe of Discourse that you are committed to technical accuracy while the gratuitous slam "Muhammadism" also tells them (and the victims of your slander) that you still have no respect for the Outgroup you insulted. No Muslim calls himself a "Muhammadist" just as no Catholic calls himself a Romanist Mary Worshipper. It is a label deliberately chosen to mischaracterize and belittle the targeted Outgroup. Muslims do not worship Muhammed any more than Catholics worship Mary. They worship Allah, which is the Arabic name for the God of Abraham. They call their tradition "Islam".
My point: courtesy costs you nothing. If you propose to be an evangelist or witness to the Faith, particularly to those who are not members of your faith community, one way of starting that project is to speak with respect to, and about, those whom you wish to address.