So the other day, this exchange took place on Twitter, as if to underscore that the real mission of the MAGA "prolife" cult is to defend brain-dead racism and only use the unborn as human shields for this, their true agenda.
You may be asking yourself, "What does ignorant commentary on iconography have to do with the prolife cause?"
Well, nothing, of course. But then, most "prolife" propaganda organs have had nothing to do with the prolife cause for years, if by "prolife" you mean "Defending the dignity of all human life from conception to natural death." That definition, which is the Church's definition of what it means to be prolife, was torpedoed 35 years ago by the mainstream "prolife" movement when it was jettisoned in favor of using the unborn as human shields for assaults on every form of human life inconvenient to the shifting needs and demands of the GOP cult of death. The unborn stopped being related to and became the opposite of all those forms of human life the "prolife" movement targeted for death, harm, and shame at the hands of the GOP, including POC.
Since defenses of racism are now at a premium in the Cult of Trump, gratuitous stupid replies like the one above are often done for extra credit by the MAGA go-getters at LifeNews and Lifesite News. Way to display Mission Creep, LifeNews!
The rejection of the consistent ethic of life by conservative Catholics has turned the MAGA "prolife" movement into a racist cult of death that spares no effort to drive people of color from the Church over the most trivial stupidity. The tweet above is Exhibit #222343223341.
Somebody in Lifenews' audience noticed this and remarked on this remarkably stupid tweet, only to receive an even dumber reply from Lifenews:
Suddenly, after 2000 years of iconography in which Jesus has assumed the skin and local garb of every nation, language, tribe, and tongue on earth from Japanese Jesus
to Angry Nordic Jesus
to Apache Jesus
the purists at Life News are seized with a passion for strict historical accuracy about Jesus' physical appearance in order to prevent the "lie" that Jesus could be represented as an African.
Prescinding from the fact that there are Jews who are African and prescinding from the fact that the equally Jewish Blessed Virgin Mary seems not to mind being pictured in the dress and skin of those to whom she appears…
….it is worth pondering the Church's curiously fluid take on iconography and the use of images in contrast to this fake MAGA demand for ethnographic purity in iconography.
One of the more entertaining paradoxes of the present hour is the fact that MAGA Protestants who, but a few years ago, were burning up social media accusing Catholics of Idolatry for our statues and icons, are now wracked with worry over the "Antifa Left Wing War on Christianity" because of a little iconoclasm spasm here and there. It's rather like the pleasure I have derived from watching the heirs of Puritan Calvinists who once banned Christmas (and everything else fun in English culture that survived the Reformation) now becoming the biggest champions of this quintessentially Romish feast in their annual paroxysms about the War on Christmas.
The reason for the old Protestant gripe about statues is the flat-footed reading of the 2nd commandment:
You shall not make for yourself a graven image, or any likeness of anything that is in heaven above, or that is in the earth beneath, or that is in the water under the earth; ¶ you shall not bow down to them or serve them; for I the LORD your God am a jealous God. (Ex 20:4–5). S
The Jewish (and Islamic) tradition will stick to this (after a fashion) in all sorts of ways, something the MAGA cult
is too dumb to know: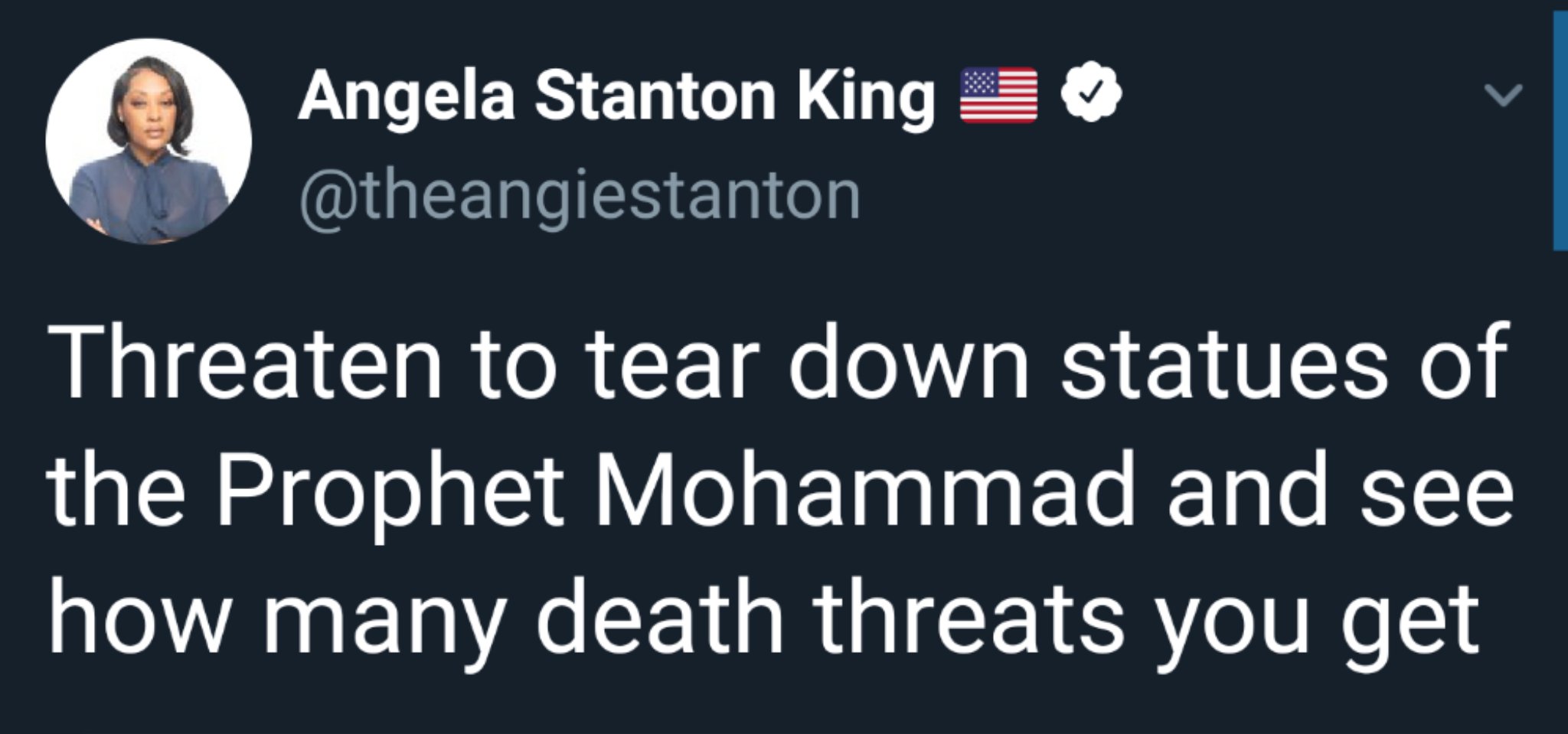 Within the Christian tradition, imagery has always been a part of our spirituality, for a the very good reason that the Christian tradition realized that God had not forbidden the use of images in the second commandment because God simply had an irrational aversion to images for some reason, but because, as C.S. Lewis said, it was the destiny of that people to worship the reality, not the mere likeness, of God. So worship of creatures, as all their neighbors and all pagans do, was not permitted them.
But the point of being set apart like that was to prepare them for the coming of God himself in the flesh of a human being. And so Paul will describe a working stiff from Nazareth who ate and drank and got tired and needed to used the bathroom and died on the bad side of the law this way:
He is the image of the invisible God, the first-born of all creation; for in him all things were created, in heaven and on earth, visible and invisible, whether thrones or dominions or principalities or authorities—all things were created through him and for him. He is before all things, and in him all things hold together. He is the head of the body, the Church; he is the beginning, the first-born from the dead, that in everything he might be pre-eminent. For in him all the fulness of God was pleased to dwell, and through him to reconcile to himself all things, whether on earth or in heaven, making peace by the blood of his cross. (Col 1:15–20).
Because God himself became an image, images were redeemed. Instead of being idols blocking God from sight, they could become windows into God. The first and greatest image to do that was Jesus. The next images to do it were his saints. And the saints themselves instantly began to make images with their hands that participated in this windowing process. That is why Paul writes:
O foolish Galatians! Who has bewitched you, before whose eyes Jesus Christ was publicly portrayed as crucified? (Ga 3:1).
Note that. He does not say, "in whose ears Jesus Christ was publicly proclaimed as crucified". Imagery is already being used in the New Testament Church.
And imagery consequently spreads like wildfire in the early Church with nobody to condemn its use because nobody could see that they should. Moreover, the imagery typically reflected the community, with Jesus as a beardless Roman shepherd and so forth.
And so on. In a pre-photographic age, Christians took seriously that God had stamped his likeness on a human face in a particular man named Jesus, weighing so many pounds, having a certain shoe size, coming from this family and people and not that. But at the same time, they were not very choosy about how that Face was represented.
And thereby hangs an interesting paradox: namely, that for most of Christian history, the people who believed most intensely that in Jesus Christ, God had really and truly become flesh spent very little time fretting over creating some sort of "historically accurate" image of him. Photographic accuracy seems to have been unimportant to them. Symbolic accuracy seems to have been much more important. So, for instance, the closest you ever get to a physical description of Jesus in the New Testament is in Revelation:
Then I turned to see the voice that was speaking to me, and on turning I saw seven golden lampstands, and in the midst of the lampstands one like a Son of man, clothed with a long robe and with a golden sash across his chest; his head and his hair were white as white wool, white as snow; his eyes were like a flame of fire, his feet were like burnished bronze, refined as in a furnace, and his voice was like the sound of many waters; in his right hand he held seven stars, from his mouth issued a sharp two-edged sword, and his face was like the sun shining in full strength. (Re 1:12–16).
This obviously symbolic description is there, not to tell us what he looked like, but to tell us what he means. Stuff like this occupied zero psychological space for them:
And commentary like this (from Shaun King, who wants all Euro-Jesuses destroyed) would have been untelligible to them:
What "experts"? I'm all in favor of giving Jesus his brown or olive skin back. You know, like the Ethiopian Church has done since forever:
But it's silly to claim that this
needs to be destroyed or that it was painted to advance white supremacy. It was painted as an act of devotion by an Italian Catholic a couple of years after Spain, at the far end of the Mediterranean, found the New World. European colonization had not begun. Italian colonization of the New World never happened (Italians would come much later, mostly as despised 19th century refugees). Leonardo was not thinking, "How can I create a White Jesus to weaponize against a slave population in America?" He was thinking about how to compose a devotional work that Italians could relate to. He was not trying to do a CRIME SCENE: JERUSALEM forensic reconstruction of the "real Jesus" in the sense of the physical characteristics of a Galilean peasant. He was trying to portray the Real Jesus in the sense of his being Very God and Very Man, present both in his human body and in the Body and Blood, Soul and Divinity that is the Eucharist. Contemporary 21st century racial categories weren't in it for him.
The paradox of such CSI: JERUSALEM "reconstructions" of the "real Jesus" is not that they are science, but that they are doing the same thing as ancient iconography while lying that they are science. Science runs on data. Concerning Jesus' physical appearance we have none. Therefore, to declare without a shred of evidence "This is what Jesus really looked like" is bunk. We don't know what he looked like from biblical descriptions because none exist.
Personally, I think the Shroud of Turin is the actual image of the historic figure of Jesus of Nazareth as he looked during his sojourn on earth.
And there is reason to think that. But there is zero reason to treat the Popular Mechanics police artist sketch based on nothing whatsoever as the "expert" reconstruction of the "real Jesus". Real Jesuses are always reflections of the faces of the people inventing him. Never of his.
So if we want to be hyper-persnickety about what Jesus really looked like, then I think the Shroud is the only image you could venerate.
But fortunately, the Catholic tradition has never much cared about the Crime Scene forensics approach to iconography, nor about the LifeNews sudden need to make Jesus Not Black.
To be sure, the Shroud image mattered in antiquity and does seem to have been regarded as the True Icon once it got to Constantinople. Indeed, a great deal of subsequent iconography appears to have used it as a template and been "standardized" to conform to it. But it by no means resulted in some sort of dogma that This is the Only Way to Represent Jesus. Christians kept on putting him in the dress and skin of their own tribe and culture.
And this strikes me as interesting, precisely because the Revelation seem to go out of its way to make plain that when God became man, he chose a face that was not much to look at.
So Isaiah prophesies of Messiah,
he had no form or comeliness that we should look at him, 
and no beauty that we should desire him. (Is 53:2)
And the gospels agree, by reference to a curious historical detail: namely, that most people could not have picked Jesus out of a police lineup–literally. That is why the police, when they came to arrest him, needed an Inside Man:
Now the betrayer had given them a sign, saying, "The one I shall kiss is the man; seize him." (Mt 26:48).
That intrigues me. Jesus was a public figure. He had created a hubbub not five days earlier riding into Jerusalem. He had preached in the Temple. He had drawn huge crowds. The Sanhedrin was afraid "the whole world" was running after him. But in this pre-photography age, in the dead of night, he could not be recognized on sight by the cops. He did not stick out particularly on his looks alone.
I find that beautiful, because it's how he has come to us ever since. After his Resurrection, he was again hard to recognize on three separate occasions. And he made himself manifest always through someone or something else. On the Emmaus Road he did it in the breaking of the bread. To the disciples, he did it through some sign or by showing his wounds. To Paul, he did it in such a way as to identify himself with his Church. And to all, he does it through the least of these, whatever their skin color, whatever their culture and (mark this) whatever their religion.
A Catholic doctor was asked why she was treating ebola victims in Africa even though many of them were Muslim, animist, pagan, etc.
She replied, "I don't treat people because they are Christian. I treat them because I am Christian."
Every person is the image of Christ.