Yesterday we noted that Qatholic and Qhristian belief, devoted to the word of Trump, not to truth, has a magical and ever-shifting view of reality.
So, for instance, if Trump declares COVID to be a hoax, then hoax it is for Qhristians and Qatholics, until it suddenly is not:
In the same way, Qatholics and Qhristians believe only what Trump and his designated disseminators of the Secret Knowledge tell them about current events. All else is Fake News. So when we get reports from people who actually live in Portland about what is happening there, Qatholics and Qhristians refuse actual knowledge and instead only accept what designated deliverers of the Hidden History of our Time, such as Sean Hannity, tell them is real:
Qatholics and Qhristians simultaneously deny Trump ever lying or behaving like a childish ass, yet always glom on to every credulous attempt by the media to hail a "new tone" from Trump when he periodically makes a minor effort to act like an adult for five minutes or so.
This leads to a kaleidoscopic and ever-changing understanding of what is real. For a while, Trump was pushing his magic cure hydroxlchloroquine. Then he seemed to back off (because it's actually dangerous as real doctors pointed out). But then, some quacks from the Cult made a film pushing it and Trump tried to promote it the other day. Twitter and other social media immediately moved to take down this deadly and dangerous quackery. Qatholics and their ilk, who only listen to Trump, not science, cried "Censorship!" and helped spread the quackery. Now, of course, the documentation on the quacks behind the film is coming out, and Qatholics and Qhristians face the uphill struggle of denying these batshit crazy people are batshit crazy: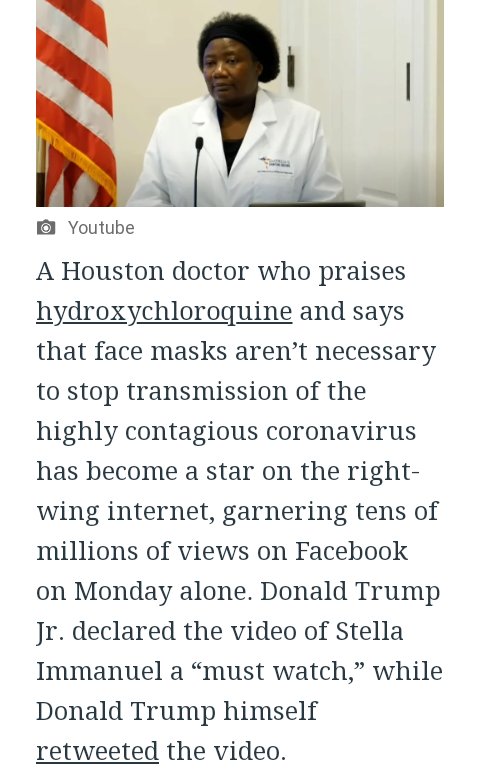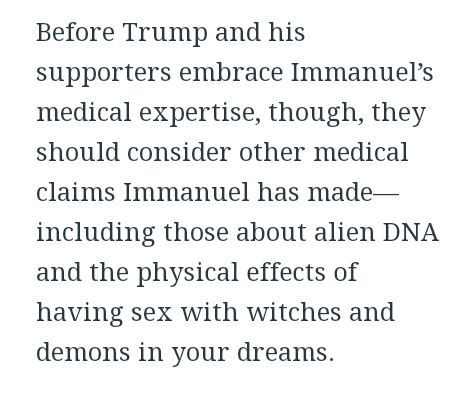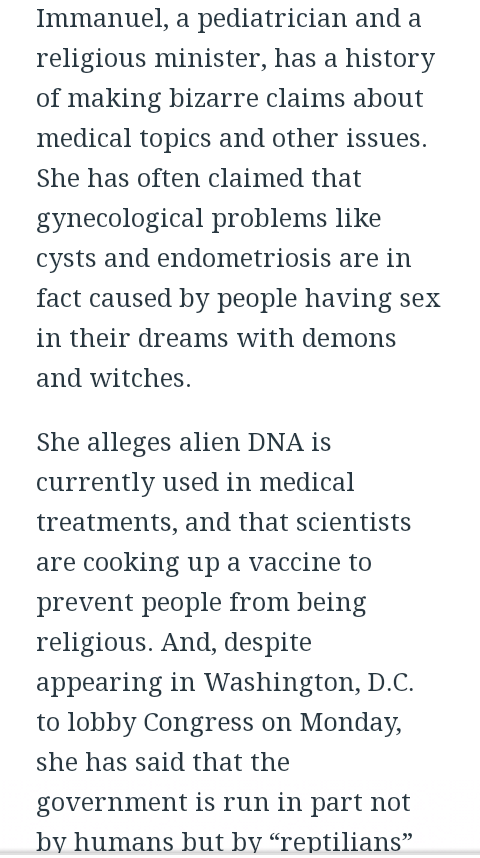 Qatholics claim to "support the troops" but defend Trump when he mocks POWs and spits in the faces of Gold Star families. When vets march with Black Lives Matter they call them terrorists instead of listening to them. Indeed, Qatholics and Qhristians don't believe in listening to anybody outside their sect. They tell people what they think, believe, and want to do, not listen. For Qatholics, their enemies (which are most people except for other Trump worshippers) are involved in a vast conspiracy.
Trump feeds that conspiratorial mindset constantly. It's why QANON is what passes for a Magisterium and a sensus fidelium for Qatholics and Qhristians. So whether it is Pizzagate or Benghazi or the Sandy Hook conspiracy or David Hogg the alleged "crisis actor" of Parkland or George Soros or this KKKlassic piece of anti-semitic filth from a GOP senator playing to the bigots in his base in Georgia…
…what you can always count on with both Qatholics and their Qhristian allies is the conviction that their secret hidden knowledge gives them the inside track on shadowy forces at work to persecute them and necessitating their support for Whatever Means Necessary to defeat their shadowy enemies.
Qatholicism, being the smell and bells version of theocratic Qhristian idolatry marketed to conservative Catholics, bears more than a passing resemblance to conspiratorial Fundamentalist apocalypticism that sold well in my youth.
Catholic faith, while it definitely teaches such matters as Judgment Day and the Second Coming, tends to prudently offer very few dogmas beyond the old summary:
He shall come in glory to judge the living and the dead and his kingdom will have no end.
That's pretty much it as far as what Catholics have to believe about the End Times. But Qatholics, like Qhristians, have all sorts of elaborate theories requiring all manner of doctrinal purities the Church never heard of. In addition to sundry quack visionaries, theories, and apocalyptic scenarios of dubious provenance, you are required to vote GOP, to condemn the "Pachamama idol", to attend the Extraordinary Form, reject Vatican II, despise felt banners, disbelieve in climate change, and combine mockery of Black Lives Matter with Reactionary aesthetics:
There are, in fact, a host of codes and shibboleths you must navigate like a minefield in order to be a Good Qatholic. All sorts of things trigger Qatholics and fill them with fear and suspicion if you don't frown or laugh mockingly at designated enemies or observe the correct pieties, matter how stupid they may be. Take this specimen of stupid, stupid Qatholic piety:
If you do not pull your chin and agree that bishops are part of a seductive satanic plot because they ask you to show a little freakin' consideration to sick people, you are suspect. If like me, you laugh this selfish narcissism to scorn, you are clearly a heretical enemy.
At the same time, if you are an intelligent, gifted and faithful Catholic like Gloria Purvis, but you dare to suggest that the Church's teaching on the dignity of the human person needs to be followed when it comes to America's disgraceful record on race, you are anathema to Qatholics and you have it coming when somebody yanks your show off the air. It's rather simple: for Qatholics, what matters is not the teaching of the Church, but whatever the Cult of Trump needs to be real right now.
Because both Qatholic and Qhristian ideology (not theology, it has none) is incapable of any empathy with human suffering except its own, it tends to order itself around the selfishness of the Leader (certainly the most selfish President and among the most sociopathically selfish humans in history). Their god's promise is "You can be like me!" It is, of course, a complete lie. He sees his cult as prey, not as equals. He preys on their adoration and, when they become useless or a hindrance to him, as things to be eaten and discarded. This is why he leaves a trial of bodies behind him, both literally (in the 150,000 dead American killed by his incompetent neglect) and figuratively (in terms of the endless henchmen and cronies he hires, rejects, and savages).
This morning, it is why Herman Cain, having devotedly attended his Qhristian god's Nuremburg Rally in Tulsa to own the libs, is dead from COVID while the god to whom he offered himself as a human sacrifice has not even bothered to tweet a word of consolation. The Cult gives all. The god takes and takes and gives nothing in return.
His cult dream of being him, of mystical union with their god in a paradise of selfishness. But of course, in Trumpworld above all, only one hand can wield the Ring–and he does not share power. But the Cult's capacity for self-delusion is nearly inexhaustible. Only one thing seems to break through it, the personal experience of suffering. So Trump only cared about COVID when it started to affect "his people". And "his people" have had to learn as fools learn–from experience–that reality is real and not what Trump and his pack of liars say it is.
But such learning is still rare in the Cult because the mark of Qatholic and Qhristian faith is pride, not humility. And so we can expect the conspiracy theories, lies, quackery, magical thinking will continue indefinitely, because what pride cannot and will not do is learn anything since learning is a confession of ignorance, an admission of weakness, and a sign that we might need somebody's help. When someone appoints himself the savior of both the Church and of America, he can't afford to admit that he is a fool.
So he remains a fool until the painful grace of God breaks into his life and brings what we foolish sinners so often require because of our own stubborn stupidity–a severe mercy.
May God give whatever medicine our sickness requires for our ultimate healing through Christ our Lord. Amen.