On Friday, I was feeling a bit whimsical and so chose to make light of Trump's attempt to read Biden out of the Christian fold by turning it to a discussion of Patripassianism. Of course, I no more think Trump guilty of a conscious heresy there than I think my granddaughter guilty of vandalism when she fingerpaints on the wall. Trump is too stupid and ignorant to be held accountable for what he says on such matters to be seriously charged with heresy. I just thought it would be fun to talk about this obscure quarrel from the early Church because I am a theonerd and this is my blog.
Trump is not, however, too stupid and ignorant to be held responsible for deliberately whipping up conservative Christian Pharisaism. This demagogue knows that his conservative Christian base hungers for Democrats it can charge with being enemies of God because it is filled with diabolical pride. His predatory instincts tell him that. Nor are the whipped-up Christians who eat up his demagoguery with a spoon above accountability for the evil they do. On the contrary, "Those to whom much is given, much will be required" and the Christians who choose to cast Biden out of the Church on the basis of this man's words will be held responsible by God for their actions.
So let's talk for a moment about what was done last week, for it bears directly on matters the Catholic faith is all about.
Here's the relevant stuff:
Forget the obvious disinterest Trump actually has in anything remotely having to do with God. His weird conflation of guns and God makes that clear. This is nothing but political red meat for the sort of American theopolitical piety that thinks this is religious art: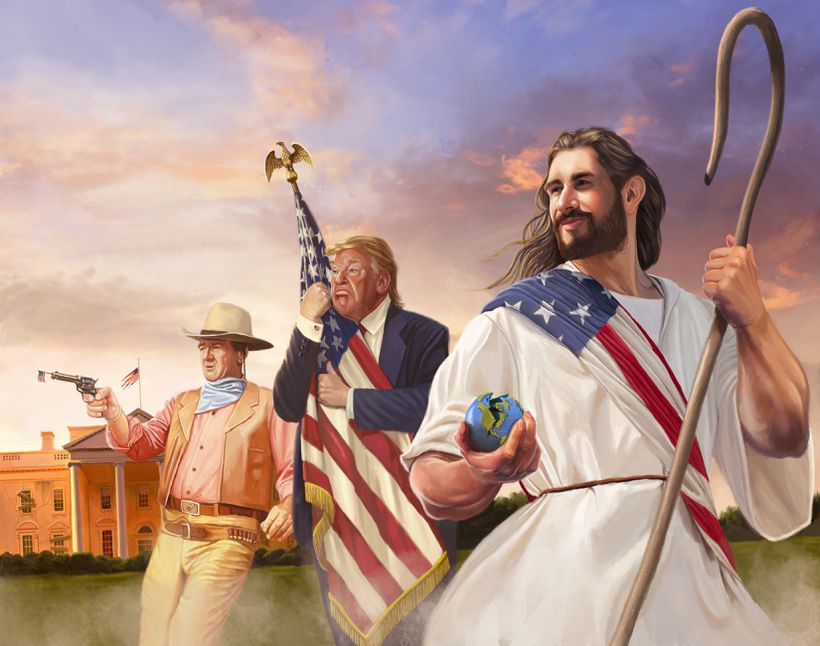 What interests me is not the memes circulated by your pious aunt from Cleveland, but rather the poisonous lie pointed out here and the zeal with with Qhristians and especially Qatholics believe and spread it in direct contradiction of their Faith:
Jesus commands me to judge the fruits Trump and his cult of true believers bear
"Beware of false prophets, who come to you in sheep's clothing but inwardly are ravenous wolves. You will know them by their fruits. Are grapes gathered from thorns, or figs from thistles? So, every sound tree bears good fruit, but the bad tree bears evil fruit. A sound tree cannot bear evil fruit, nor can a bad tree bear good fruit. Every tree that does not bear good fruit is cut down and thrown into the fire. Thus you will know them by their fruits. (Mt 7:15–20).
The fruits of Trump and his cult are bad. And one of the worst is the ease with which this cult kicks people out of the Christian fold and exiles them from God.
Look. You can disagree all you like with Biden on his typical support for the typical pelvic issues that lots of average Catholics fight with the Church about. I do. But calling the man "against God" and claiming that he seeks "no religion" is just a stupid stupid lie. His piety is perfectly obvious and genuine as far as it goes. He himself says that God got him through the deaths of those he loves and it takes a special kind of arrogance and heartlessness to declare that a lie. In contrast to the millions of combox bishops in their paper mitres who are always so eager to drive the sinner away from God, here is an actual shepherd–Pope Benedict XVI:
In 2016, Donald Trump called Pope Francis "disgraceful" for saying that "a person who thinks only about building walls, wherever they may be, and not building bridges, is not Christian." The Pope, who really does have the authority to make such judgment calls, did not specifically name Trump, but the shot across the bow was noticed by Trumplethinskin, who declared:
"No leader, has the right to question another man's religion or faith."
Naturally, this liar for whom accusation is always a form of confession now does what he declared no one can do. And instead of listening to the perfectly reasonable warning of the Pope, the MAGA cult, as ever, makes war on him to defend a cynical demagogue as he kicks his enemies out of a Church to which he does not belong.
The Qhristians and, above all, Qatholics who are playing the dangerous game of sitting in judgment of Biden's soul and reading him out of the Church from their perch of spiritual superiority should really be thinking hard about Uncle Screwtape's comments about them, because they are placing their own souls in grave danger.
All you then have to do is to keep out of his mind the question "If I, being what I am, can consider that I am in some sense a Christian, why should the different vices of those people in the next pew prove that their religion is mere hypocrisy and convention?" You may ask whether it is possible to keep such an obvious thought from occurring even to a human mind. It is, Wormwood, it is! Handle him properly and it simply won't come into his head. He has not been anything like long enough with the Enemy to have any real humility yet. What he says, even on his knees, about his own sinfulness is all parrot talk. At bottom, he still believes he has run up a very favourable credit-balance in the Enemy's ledger by allowing himself to be converted, and thinks that he is showing great humility and condescension in going to church with these "smug", commonplace neighbours at all. Keep him in that state of mind as long as you can.
And for what? A sex predator who raises the funding for Planned Parenthood every year of his Administration while you lie that he the Most Prolife President in the History of Ever, shags porn stars while his third wife gives birth, kidnaps and disappears children out of racist spite, betrays our troops to Russia-paid bounty hunters, criminally neglects his duty to the common good in a Pandemic, mocks POWs and Gold Star families, mocks the disabled, and declares that he needs ask no forgiveness from God?
That's the guy you make your mouthpiece for declaring Joe Biden excommunicate from the Christian fold? What the hell is wrong with you?
Trump is Trump and will tell these transparent lies because it's what he does. The real stain is on the Greatest Christians of All Time who know better but choose to believe and spread these transparent lies. They prove definitively that a con man does not succeed by lying, but by getting his marks to lie to themselves and all those around them. Instead of peering into Biden's soul and kicking him out of the Church proud Pharisees while he is on his knees mourning his beloved dead before God, why not ponder these two words from Our Lord as you believe and spread lies about a fellow sinner?
You are of your father the devil, and your will is to do your father's desires. He was a murderer from the beginning, and has nothing to do with the truth, because there is no truth in him. When he lies, he speaks according to his own nature, for he is a liar and the father of lies. (Jn 8:44).

"Two men went up into the temple to pray, one a Pharisee and the other a tax collector. The Pharisee stood and prayed thus with himself, 'God, I thank you that I am not like other men, extortioners, unjust, adulterers, or even like this tax collector. I fast twice a week, I give tithes of all that I get.' But the tax collector, standing far off, would not even lift up his eyes to heaven, but beat his breast, saying, 'God, be merciful to me a sinner!' I tell you, this man went down to his house justified rather than the other; for every one who exalts himself will be humbled, but he who humbles himself will be exalted." (Lk 18:10–14).
Remember the words of the Good Thief, because they are true of all of us: "Do you not fear God, since you are under the same sentence of condemnation?" (Lk 23:40).